ECLC Programs & Services
Parents play an important role in a child's developmental and learning process. Every preschooler is unique, but there are similarities that occur in their growth and development. Please read more about the development of a preschooler, and contact us if you have any questions or concerns.
Early Intervention Program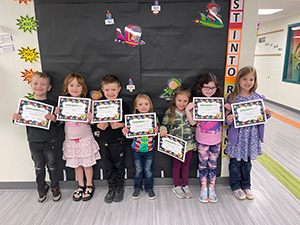 We work to assure a smooth transition to school-aged programs.
Remember, the earlier children's needs are identified, the better their chances for reaching their potential.
We serve three to five-year-old children in Clarion, Forest, Jefferson, and Venango counties.
Riverview Intermediate Unit offers a free program designed to help your child. Any child with a vision, hearing, speech or language, social problem-solving, physical, or emotional delay may be eligible.
Riverview Intermediate Unit
270 Mayfield Road
Clarion, PA 16214
(814) 226-7103
(800) 672-7123, ext. 161
Screening
About 10 percent of children experience a delay in their development. While some children develop more slowly than the average child, many of these delays can be corrected or improved upon if the child starts in a program at an early age. The first step begins with a free developmental screening.
For children age three to kindergarten registration.
To determine if possible delays are present and further evaluation if needed.
All developmental areas are targeted in a screening at no cost to parents.
Educational Evaluation
To determine each child's developmental needs.
Occupational and physical therapy, psychological, hearing, and vision evaluations are available as necessary.
Educational Services
At ECLC, we provide:
individualized Education Programs (IEP's) for each eligible child;
early intervention classrooms for individual and small group instruction;
services based on the child's individual needs; and
direct and consultative services in regular preschool or home settings.